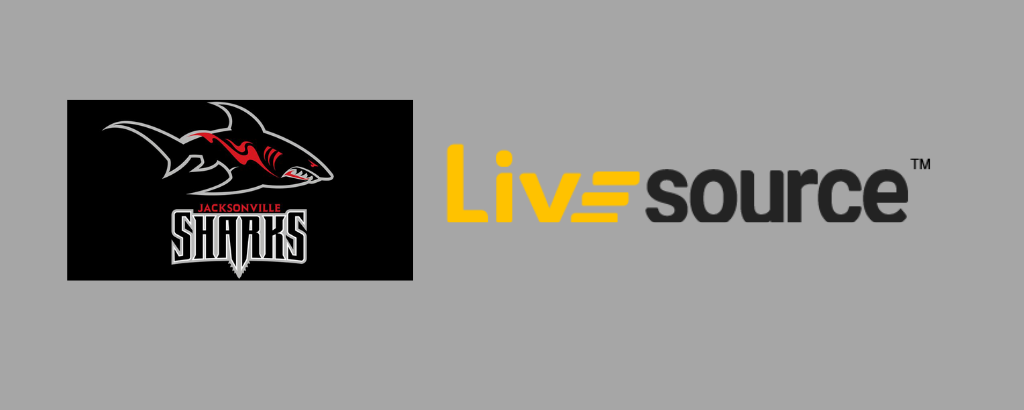 The Jacksonville Sharks football club and LiveSource LLC are thrilled to announce a partnership to utilize the LiveSource platform for online auctions and other fundraising efforts. The LiveSource platform will make it incredibly easy and convenient for the Sharks fans and  fanatics to take part in live game-used jersey and other auctions from wherever on whatever device they prefer to use. LiveSource will enable the Sharks to instantly reach fans with opportunities and in turn treat our supporters to consistent excitement.
"We are thrilled about this new relationship," stated Vice President David Gleeson.  "The integration of the LiveSource will help make the Sharks and our auctions and other opportunities accessible in an instant from anywhere. This capability is right on time given the pandemic as it will provide an opportunity to enhance our fans' experience and provide them a chance to bid and buy our memorabilia and gear regardless of their location. We are very excited about the potential of LiveSource to help make the organization cutting edge"
"The Jacksonville Sharks are a great arena football organization and we are thrilled to expand our presence within Florida. We see huge results coming for the organization as a result of this partnership and can't wait for fans of the organization and fans of winning cool experiences and gear to be able to bid and buy from anywhere on any device.  LiveSource will drive significant revenue increase related to their auctions and raffles, and will enable the organization to fundraise much more efficiently and effectively on behalf of their local charity partners." Said Scott Levin, Founder of LiveSource.


About LiveSource:
LiveSource enables partners to surprise and electrify fans with unanticipated opportunities to own unique collectibles and experiences. LiveSource partners can react instantly to initiate auctions for the fans while they are most excited – right then and there during the event. Bidding, winning and payment is all facilitated on mobile devices or computers through the LiveSource app or website. For any additional information, contact LiveSource at 858-336-8380 or hello@livesourceapp.com.