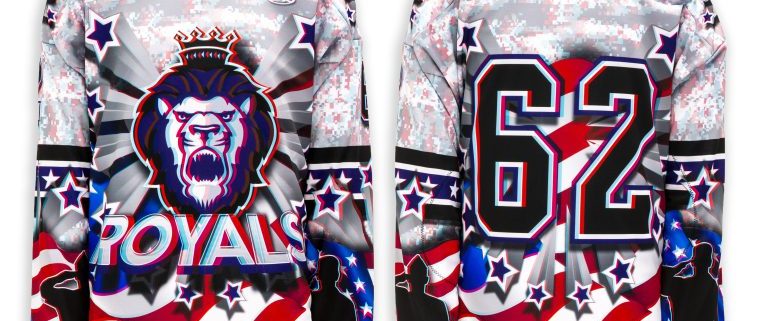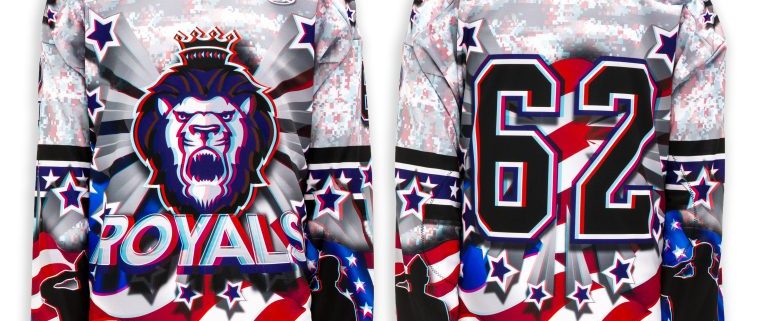 The Reading Royals have partnered with Athletic Knit to create hockey's first-ever three-dimensional jersey, which the Royals will wear at the team's Veterans Day Game Sat., Nov. 17 at Santander Arena. The jerseys are presented by Classic Harley Davidson and the Royals will hand out a limited supply of 3-D glasses at the game against Newfoundland leading up to 7:00 p.m. puck drop.
Fans can bid on these incredible 3D hockey jerseys by using the LiveSource App. 
"We are thrilled to partner with Athletic Knit and unveil this cutting-edge jersey," said Royals President and General Manager Shawn Hackman. "We would also like to thank Classic Harley Davidson for partnering with us again for our Veterans Day Game. It is going to be a special evening at Santander Arena."
"Being apart of history is exactly what any company yearns for," said Scott Levin founder/ceo at LiveSource. "All the credit goes to the inventive minds at Athletic Knit and the Reading Royals, and we're just very excited to help them maximize the return on investment they materialize from all their great work. LiveSource is the undisputed leader in the auction and fundraising space and we're thrilled to be the home of the first ever 3D jersey!"
Tickets for the Nov. 17 game are available by calling 610-898-7825 or by visiting the royalshockey.com/tickets. NHL On NBC Sports Covers Jerseys
About the Royals
The Royals have been owned by serial entrepreneur Jack Gulati since 2014 and are entering their 18th ECHL season. Proudly affiliated with the NHL's Philadelphia Flyers and AHL's Lehigh Valley Phantoms, Reading plays in the Santander Arena, located in downtown Reading, PA at 700 Penn Street. The Royals won the Kelly Cup in 2013, have made the playoffs in nine straight seasons and are four-time division champions.
About LiveSource
Founded in 2016 by Scott F. Levin, LiveSource enables partners to surprise and electrify fans with unanticipated opportunities to own unique collectibles and experiences. LiveSource partners can react instantly to initiate auctions for the fans while they are most excited – right then and there during the event. Bidding, winning and payment is all facilitated on mobile devices through the LiveSource app. For any additional information, contact LiveSource at 858-336-8380 or hello@livesourceapp.com.