The Key To Successful Sports Auctions? Simply Create In-The-Moment Opportunities

Being there in the moment is key to getting the most out of our lives. You don't need me to tell you that it is also crucial when it comes to running a profitable business. Having the right product is only one piece in the jigsaw. You need to get that product in front of the right people – at the right time. You won't be surprised to hear then, that it is also paramount when it comes to running a successful sports auction. But despite the world, and especially the world of commerce, having moved on light years from the antiquated methods of selling we all grew up with, so many people are still relying on those methods and techniques when it comes to auctioning their sporting memorabilia. It is crazy. It is like owning a restaurant, and not opening up at lunch or dinner!
Go to any major sporting event today, and the crowd will not just be watching it, they will be tweeting about it, filming it and uploading photos of it onto Facebook, WhatsApp and Instagram. Why then should they have to wait to bid for items that they can see right in front of them? They shouldn't have to, and what's more they won't. By then they will have moved onto something else.
Auctions that last two weeks just do not resonate with the modern consumer.  When people see what they want, they want to do something about it right there, right then. Modern technology allows them to do that in practically all aspects of their life. Now thanks to LiveSource they – and you – can bring auctions not just into the twenty-first century, but actually into the stadiums and arenas.
Take a look at the number of bids for your last few auctions. Can you honestly say, hand on heart, you are happy with the results you are getting? Bids totaling 7, 10 and 13 are just not acceptable.
By shelving the traditional, outdated approach of online auctions that begin at random times and drag on for a couple of weeks, and moving to live in-game auctions you can achieve 5, 10, even 15 times the number of bids. And as you would expect, the higher the number of bids, the greater the final bid price. This isn't just theory. This has been proven in actual auctions. The statistics are frankly mind boggling. We will go into the data in a lot more depth in the following articles, but as an example – and I literally could have chosen dozens – Washington Capitals' defenseman John Carlson's jerseys receive on average 5 bids in dozens of online auctions. When the Capitals switched to an in-game auction in January 2016, the number of bids for his jersey shot up to 50!
But that is only half of the story. Live auctions aren't just in the moment, they add to it, bringing another dimension to the spectacle that engages and excites the spectators – your potential customers. For example, when the USA Womens Hockey Team won Olympic Gold in dramatic fashion, all of us lucky enough to have stayed up late to watch live would have loved an opportunity to own a piece of that historic game right then and there. But even though it's only three days later, for most of us life has taken over once again and the excitement has died. The moment to generate top dollar for items from that event has come and gone.
Perhaps the most surprising thing in all of this is that people are still using the old methods they have always used, hoping, despite all evidence to the contrary, that things will get better. Of course, there is nothing forcing you to change, but sitting still in this dynamic age is the same as moving backwards, because you can bet your bottom dollar, if you don't embrace new techniques, new technology, your competitors surely will.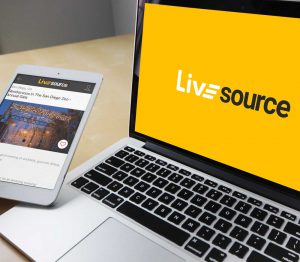 Founded in 2016 by Scott F. Levin, LiveSource is a mobile auction app and website that facilitates in-the-moment auctions and raffles before, during and after events. LiveSource is designed to benefit athlete and entertainer foundations. The LiveSource platform gives fans in attendance and at home the ability to bid on items and experiences that become available during an event. Bidding, winning, payment and delivery is all facilitated on mobile devices through the LiveSource app and website. Partners receive the proceeds directly and can disperse the revenue without delay.